Ministry of Finance & HRD is Missing !! Postal Department is Searching
**Update – Even after a month of receiving a letter from Mumbai GPO dated 29th June' 2012 , mentioning the refund over delay is sanctioned. Also, Asst. Director Mr. Patel has verbally assured Detailed inquiry" -Have not received even refund, or any update on inquiry**
Until 16th of May' 2012, almost all Indians, were sure that Central Government's Ministry of Human Resource Department and Ministry of Finance is located in New Delhi, except for Indian Postal Office, who begin their search for above mentioned ministries from as far as at Kolkata, then Dhanbad and from Dhanbad went to Ranchi and then at Noida (Palam), despite being tired by long journey, Indian Postal service kept their search on to locate the ministry, and finally found the location of Ministry in New Delhi, mysteriously the location was same to that of pre 16th May' 2012 location and as mentioned in the Parcel. Confused? Please don't be. This is the story about my RTI application journey.
 Premise: I have filed two RTI applications, one to Ministry of Finance and another to Ministry of HRD, The two RTI were duly written, attached Rs.10 stamp, mentioned name of concerned person in the ministry, whom the RTI was to be addressed and also the postal address of the Ministry on the envelope. Later the application were dispatched via Speed Post from Mumbai G.P.O, on 16th May' 2012 at 12.15PM, and the receipt clearly identifies the recipient to be in New Delhi (below is the copy of speed post receipt)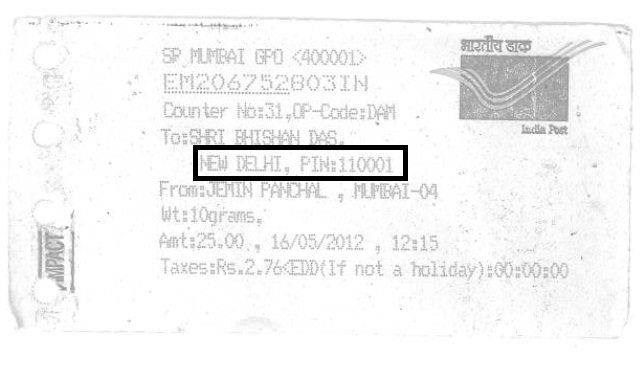 Now in normal eventuality, since the service chosen was speed post, the parcel should have reached to both the ministries either by 17th May or latest on 18th May' 2012. However surprisingly, Indian postal service decided to sent my application only on 17th May' 2012 2.23AM but to Dhanbad (Mistake no.1). The application was received at Kolkata on 17th May'2012 2.01PM. The game actually begins now, Kolkata postal department at Airport on receipt of the parcel should have dispatched back to New Delhi. But let's give them the discount, that the entire lot was not individually checked at Kolkata airport (Ideally the lot should be checked, to avoid such eventuality, which can possibly cause huge loss to the sender, by the mistake of postal department, hence Mistake No. 2). Dhanbad receives my application on 18th May' 2012 0.41AM, from Dhanbad the applications goes to Ranchi on 18th May' 2012 at 4.48AM (Mistake no.3, instead of sending back to Kolkata it is been send further to Ranchi), the application reaches Raanchi on 19th May' 2012 at 5.55AM, then from Ranchi it goes to Noida (Palam TMO) on 19th May' 2012 at 6.09AM and The Noida Palam TMO receives on 19th May' 2012 at 8.46PM and the application is dispatched for Delhi GPO on 19th May' 2012 at 9.09PM. Finally application reached to New Delhi GPO, on 21st may' 2012 at 7.01AM, after 5 days of sending via SPEED POST and after my application doing half of unnecessary Bharat Darshan. The details of the journey undertaken by RTI application (even though forcefully) is shown below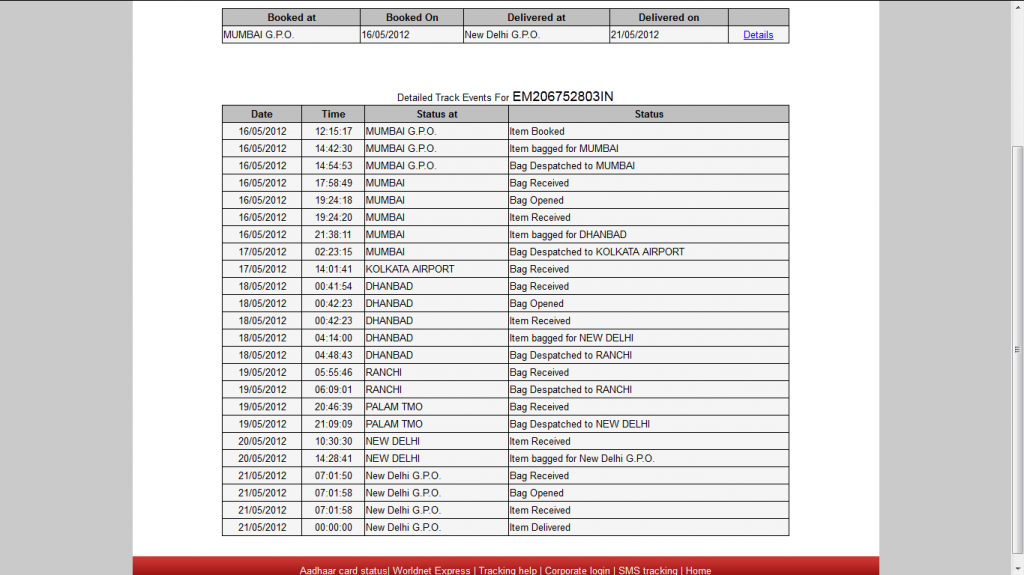 The above mentioned case, is not simple case of Human error by employee in Indian Postal office, as mistake can be done once, but not repeatedly by bunch of employees in consecutive manner – if one of the two application was sent in wrong lot, then this act can be given benefit of doubt (yet not pardonable, since it is lapse in service despite charging premium). However both the application were repeatedly been packed in wrong Lot and this despite the envelope mentioned RTI on top and eligible address mentioned on cover, and top of it the system of Indian Postal department has recorded Delhi as the destination. Now, can Postal department explain, why the sender was not informed about this mishap and once the parcel reached to Kolkata, why was application not resend to New Delhi? The parcel from Kolkata to Dhanbad was received in approximately 8 hours and 40 minutes, so after Dhanbad postal department found out that two of the parcel meant for Delhi parcel is with them, why were the applications not send back to Kolkata and instead send to Ranchi, from there the applications were routed to Noida and finally at Delhi, taking approximately 3 days? Can Postal Department explain the logic of not utilizing the route of 8 hours and 40 minutes and instead chose the route via Ranchi / Nodia, which took over 3 days? The parcel was opened and checked at every destination except for Kolkata, Only if Kolkata department had checked the matter would have been resolved.
I may be accused of being paranoid or cynic but Mr. Kapil Sibal under whose ministry functions the Postal department of India, is highly active in attempts to suppress the freedom of expression and furthering the cause of faulty RTE and again labeling the loss in 2G scam as Zero, has no time to check about the gross mis-functionality in postal department. My allegations may be wrong, but with the paranoia clinged up in UPA government due to continuous exposure of its inefficiency through RTI and other institutions like CAG etc. Though very dim possibility but it can't be ignored, certain RTI are being deliberately delayed or attempted to be lost, not to forget my RTI was for one of the ministry held by Kapil Sibal.
The complaint to the Postal Department has to no help, the only reply i received for my e-complaint was, since parcel has received to Delhi, should close the matter.
However, I would like to Tk to Mid-Day team, especially Mr. Shahshank Rao and Sachin Kalbag, for assisting me in telling my story to people at large. below is the story in Mid Day, Dated 25th May' 2012
– URL of Mid – Day article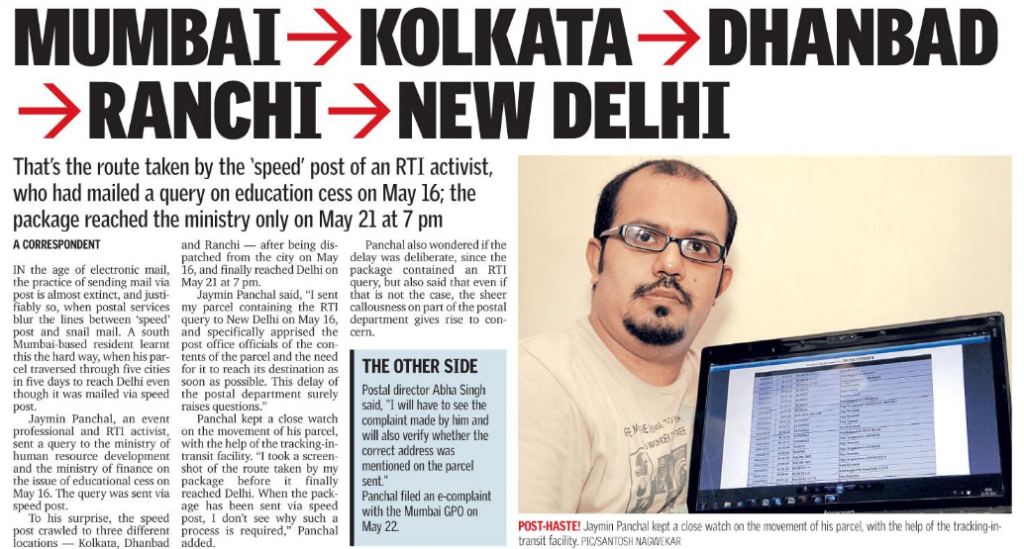 After the above story in media, The Postal Department has contacted me, and assured of the inquiry and also ordered for refund to me for the delay. Any further info on inquiry will be updated in the blog. Thanks to Mid-Day, for their assistance getting reply from Postal Department
It is really funny that even a post from speed post department from GPO with in same city, does not got delivered for more than 25 days, despite repeated assurance from Additional. Director Mr. Patel. Below is the letter received from GPO