**Kindly note, Mail Today has rectified their error, which was been alerted, and same has been included in the blog as well, Much appreciated the swift action by Mr. Sandeep Bamzai, editor of Mail Today**
The set of experts, commentators, activists and media journalist who were thriving on the sole agenda to politically finish of Gujarat Chief Minister by leveling all kind of fictitious charges and then labeling him with humiliating adjectives, without an iota of evidence to back their pre conceived hatred, have gone berserk when reality struck that their thriving cottage industry is nearing its logical end after meeting the facts of Gujarat riot, on which these loony bunch fried lies and fed to people at the instruction of their masters. The determined act of abusing Narendra Modi got a new twist, the attack shifted the gear soon after the SIT report was made public, these lampoon herd initiated frantic, compulsive fearful bile,  in just an attempt to save the loss of face, credibility, which was thus been exposed. Now the attack on the Chief Minister of Gujarat, who is also most popular choice for Indian Prime Minister post has been of mixture of atrocious and cheap shots (once it was fairly clear that Narendra Modi can't be legally or in any other way accused).
Such is the hatred towards the development man of India that there is concentrated effort to magnify even a non event, suppress the achievement of Gujarat, malign Modi by wrongly associating him crimes, just to titillate the mindset of the society and thus sow the seeds of polarization for mere fulfillment of either lineage towards certain ideology or serving their political or otherwise masters or attracting funds from vested interest or simple individual vendetta scoring.
The latest attempt was made by Krishna Kumar, who wrote an article on Narendra Modi on 5th June' 2012 in Mail Today. The premise was Narendra Modi had attended the Function organized by My Home India, to felicitate Shri. Nabam Atum, the achiever from North East here, also Smt. Kavita Karkare was also felicitated by Shri. Narendra Modi. here In zeal to nullify and negate this felicitation and embarass Modi by wrongful acussations, the author with cheap and obnoxiously inserted a statement – In fact, the role of Swami Aseemanand, one of Modi's close supporters, was bared because of Karkare's investigation."
News Story as on 5th June' 2012 – before alert was issued
Indirect attempt to link Modi with SUSPECT of bomb blast in Malegaon, a minority saturated area. A clear attempt to polarize the situation by suggesting Modi's close aide was involved in bomb blast in Malegaon. This is a brazen attempt and could lead to tensions just to fulfill the whims and fancies of the author's imagination and pre determined hatred without any proof. Had this line been picked up by some notorious element and spread the bile and factionalism idea, The society would have faced some stressful moments all because of the Krishna Kumar's fetish to malign Narendra Modi, for whatever reasons which are unknown to me, but certainly with ulterior motive. The malicious attempt was thus been exposed to editor of India Today and Mail Today through emails and tweets.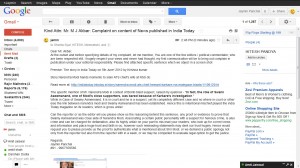 I must appreciate the editor of Mail Today, Sandeep Bamzai, who did take the note of my complaint and replied back on twitter me back that he reprimanded the author for writing rubbish.
Also, Mr. Bamzai has assured me the editing of the news article will be done shortly, below is his assurance, I shall also paste the edited article once the new edited article is published
The article was edited and the controversial line was been deleted from the story
The News article published as on 6th June' 2012 after the alert was issued, and Sandeep Bamzai assured the rectification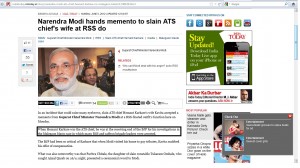 Earlier in 2010, When Swamy Nityanand was been exposed for his sexual activity with one of his follower, (the case is subjudice), However the media wasted no time and align the case with Modi with headline – "Modi Godman is Sex Romp". NDTV was one of the leading news channel who published articles and news video under this headline, however post the pressure from social Media, NDTV was forced to change the headline, however below is the screen shot of another publication house who showed video link under similar headline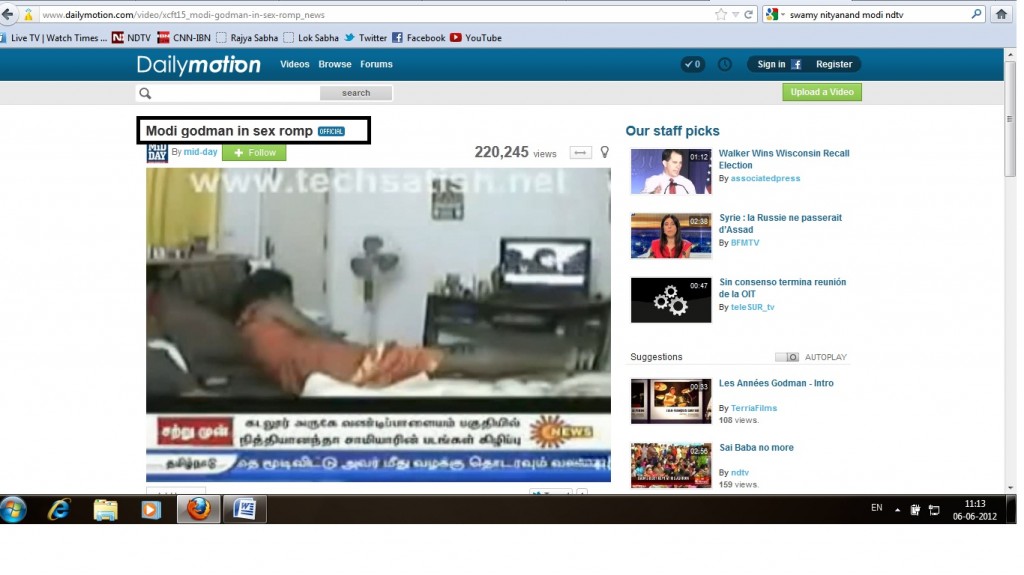 The certain section of media has lost touch with the basics of journalism and the meaning of the word ethics, particularly media ethics. The old school of journalism actually followed practice of holding back the news howsoever sensational it is, until the news were backed with proofs. The news item against particular family and political party in power as of now, are checked and re checked, the facts been hidden to ensure that, particular family and political party doesn't face the music from people of India. But when the news comes on or for Narendra Modi, The news channel / publication house becomes more link teenage gossipers and naïve scoundrels who want to impress others by their lies. But after analyzing the concentrated attempts since past 10 years, one can easily infer a section of media commentators intentionally mislead people, a criminal act of defamation at times and their act is not an unintentional / innocent gaffe.
I would only like to request to good people in media to tutor the other degrading portion of your fraternity and also like to warn the filthy mind of degrading section of media / commentators / activist to restrain their bile without evidence as people have seen in through your ulterior actions and don't believe you.