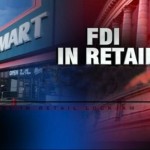 Re-plugging my old discussion on FDI in retail,
Backdrop, question was raised how can a postgraduate in Finance be opposing FDI in retail, after all it is a sure way of getting money in the economy
My reply – Well, A finance guy does not mean, he has to deal only with numbers and statistics, ignoring the other aspects of economy and society; but for him equally important is to have a tab of policy implementation and also view the alternate measure which may help the economy to sustain in better manner.
To start with, the opposition is not to FDI or Foreign goods, The narrative by vested interest groups / media and government is highly misleading; no one is opposing to FDI or for that matter even foreign goods, also opposition is also not to FDI in single brand retails.
This government can't be trusted on proper implementation of even the pro-economy policy measures, to back this statement; I can present last eight Year's performance. Just by enacting a policy, if economy could have been smoother, we live in wonderland.
Not for once, It is been said, the current system of delivery and procurement in Food industry and retail trade of India is perfect. There are lot of issues, and problems which are to be sorted, so as to avoid exploitation of farmers and to increase standard of service. However, FDI is not the solution. The co-operatisation of the state owned warehouses and godowns are much better solution and not FDI. Stricter law implementation to avoid exploitation is required.
Employment – The lie of government that FDI in retail to increase 40Lakh employment is been thrashed by the fact, world over branches / malls of Walmart employees little more than 21lakhs. While the opposition is not cushion citizens in secured job.
As said before, hypothetically even if both policies are good, still the implementation will be in hand of ethically corrupt government, who are to equipped to spoil even a good policy. The policy even if best in nature and intention has to be followed up and implemented in required manner. As said Policies are mere medium of transforming governments vision to delivery model for citizens; hence if the vision itself poses serious doubt, even if policy is best, won't be able to deliver results.
FDI in Retail, is not opposed as policy (which I believe, is good for nation, only if tailoreed properly with accurate implementation) – however current framework in which FDI in retail would be implemented is disaster.

Local procurement – 30% local procurement and that also vague notification; such that non consequential products can be locally procured and also can be procured an imported product from local traders, thus undermines the very ethos of local procurement policy – which is to help domestic manufacturing industry. What we need is increased local procurement and those also local products, or if required investment in Indian manufacturing to 24-26%, by that enable transfer of technology to alleviate the standards and quality of domestic products, and giving life to slowing dying state of Indian manufacture.

The management control given to FDI for 51%, is opposed as principle – can extend between 26 – 49% if required. \

The local traders need to be given level playing field, before exposing to globalization, a standard which is followed over || no country will leave its domestic industry to die to facilitate foreign players, be it Europe or even US, they have heavy subsidy or regulations which effectively save their primary and manufacturing industry from imported goods, hence the high population of Indian traders can't be put at risk.
 Nothing can be seen or evaluated in isolation, it has to be seen on various counts to understand the effects and counter effects, and I hope I have made my stand clear. I would welcome any counter arguments to take it forward.