All it took to shake a political party that forms a part of the ruling coalition in Maharashtra was a footnote in the bill of small time restaurant in Mumbai. It read: "As per UPA govt eating money (2G, Coal, CWG scams) is a necessity but eating in an AC restaurant is a luxury"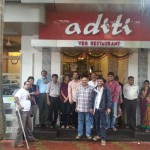 It all started when Sriniwas Shetty, who runs a hotel named Aditi Veg Restaurant in Parel area of Mumbai, decided not to be yet another mute spectator of excesses unleashed by the United Progressive Alliance (UPA) government. On one hand, the UPA broke hell on citizens by executing one scam after another; and on the other, in utter clumsiness, has started squeezing the working class by levying various taxes.
To read entire blog, please visit Money Life link .
Thanks to Money Life Foundation, esp. Sucheta Dalal, for publishing my view