Today, the shortest way to claim the fame (though highly undeserved) in the current Indian scenario is to blame and abuse BJP state government of Gujarat by raising issue of 2002 riots and ignoring world class development there. None of the leftist follower or Media journalists, and not even few self claimed liberals have been left untouched from this self destructive addiction. The nearest analogy, which can relate to this urge for fame (also known as ASS – Attention Seeking Syndrome) is that of few wannabe Hindi Cinema actress and female models, who would announce their act of stripping at "speed of drop of Hat" for even most inconsequential events, just to claim attention and publicity. Similarly these leftist and few self claimed liberals are ever so desperate to garner cheap publicity by act of stripping naked to self and expose their filthy mindset under garb of pretentious secular / liberal image, ONLY to abuse and malign Mr. Narendra Modi (A chief minister of Gujarat State in India), who has attracted laurels for his governments work and achievements, not only in domestic circle among voters but even at international arena.
 Until 5th July' 2012, any remote interjection by right wing sympathizer to compare 2002 riots to ghastly state sponsored pogrom of 1984, was considered distasteful and taboo, to such an extent that a journalist or anchor would squirt and scream on the speaker (Complete agreement, that no two riots can be / should be compared).
However, post 6th July, the news started floating about the ghastly violence in state of Asom, where the clash is between illegal immigrants from Bangladesh and local inhabitant Indian Assamese. The Main Stream Media first tried to block the news, but upon meeting the failure due to timely expose by Alternate media, the section of media and few journalist started assisting Asom State government and Central government (both CONGRESS), to downplay the incident as routine minor clash, then named it as communal clash, safely evading the acknowledgement of clash between Indians and foreigners on Indian land.
The media which is fourth pillar of democracy, has a very important role in current stage to assist Indian society which is trying hard to come out of the deep mess where India finds itself into, courtesy central government of last 8 years. But it is deeply disturbing to see the few journalists, who claims and also poses to be liberal, gets into these cheap activities of giving callous remark and then publicly defending it, merely for their personal vendetta or ideological compulsion and which are devoid of any truth or not even remotely close to facts. These pathetic breed doesn't even take a nano second to change the stand or belief, when it is convenient for them to attack someone whom they dislike. The media which has to act on foresight and also on experience, to provide corrects news and information to the society, has often given priority to personal bias which takes over the professional ethics of this sect of self-claimed liberal journalists.
The same breed of journalist and political analyst along with self claimed experts, who considered it is unfortunate to compare the two riots (2002 Gujarat riots v/s 1984 state sponsored pogrom), are ever so eager to compare Asom violence with Gujarat riots. While the facade of not equating two riots earlier and now the eagerness to compare the riots by leftist and section of media, has common agenda which is to save CONGRESS from getting exposed for its role in riots.
After few acclaimed journalist who are pretty well known for their biased stance which can be generally categorized as anti-Indian, there is entry of hoity-toity Madhu Trehan, a self-claimed liberal (with questionable authenticity of claim) in the frame. The organization of Ms. Trehan, News Laundry, which claims sabki dhulai, and also to be unbiased to all, makes a very callous comment on Social-Media platform "Twitter" of comparing two riots – Asom and Gujarat. Not surprisingly, when active twitteraties raised the objection, Ms. Trehan scuttled the issue by claiming of airing her views on 1984, confused on no-relation? Don't be, a normal technique applied by self claimed liberals to run away from the logical debates and to avoid acknowledgement of goof up.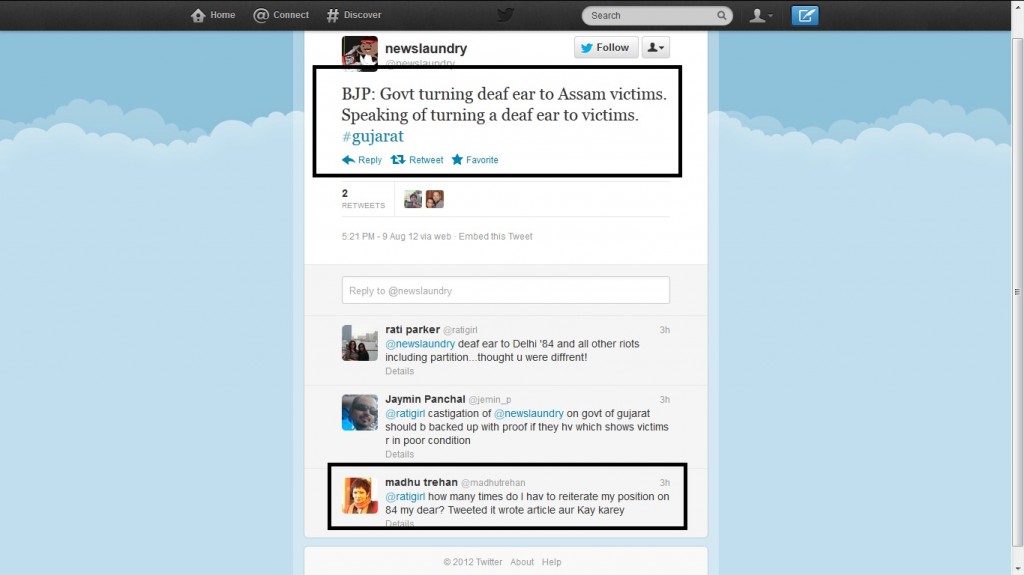 The writer also raised few questions, like
If comparing 2002 riots with 1984 is distasteful (agreed) then how come comparison between Assam violence and Gujarat riots is not allowed by you under your organization's handle but also defended by you in your personal capacity?
Do you or your organization have any proof to back up the underline comments that victims of riots in Gujarat were left helpless to suffer by then state government? || kindly provide proof and not concocted statement from the cottage industry that has vested interest to malign Narendra Modi.
Does the riot in Gujarat takes away right from BJP to raise issue of Asom victims? In that case, do you profess, that you believe a alleged person or organization can't raise up issue of national importance, which falls in line of similar allegation?

Do you hold this same belief even for your professional fraternity?

Initially, I was told to wait, as pompous madam is busy is some meeting, after which she will answer, as said by her in her previous tweet, which is been uploaded below.

However, later on What I received was insinuation and as expected Ms. Trehan felt it is below her hollow status to reply with underlying attempt to label me as a troller (offensive word) under garb of suggesting #BashMadhuSlugFest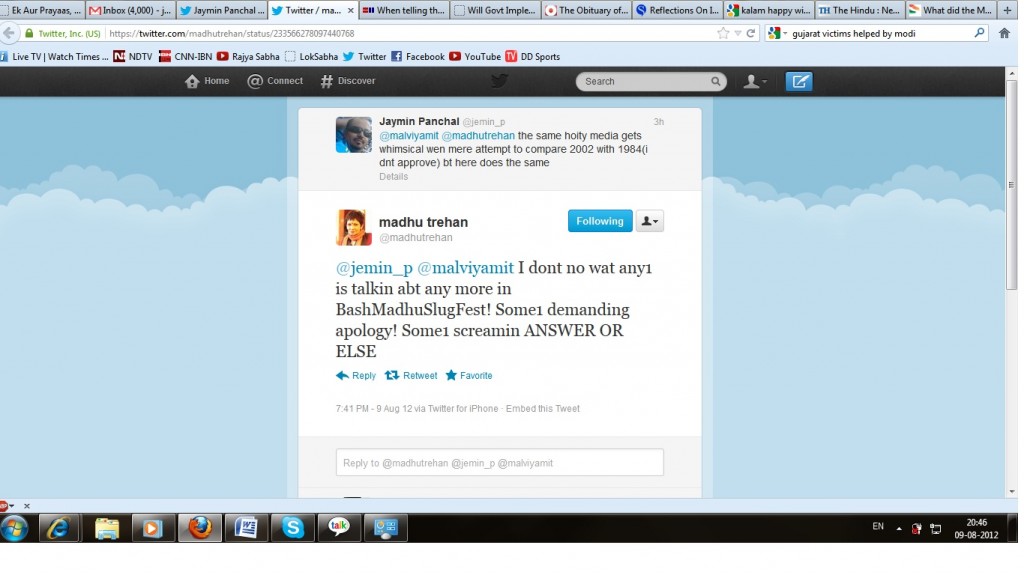 when the issue was pursued she again tried to dodge the question by non related answers and narrating some shloka from Upanishada, not leaving the opportunity to expose her pompous and arrogant behavior in the reply.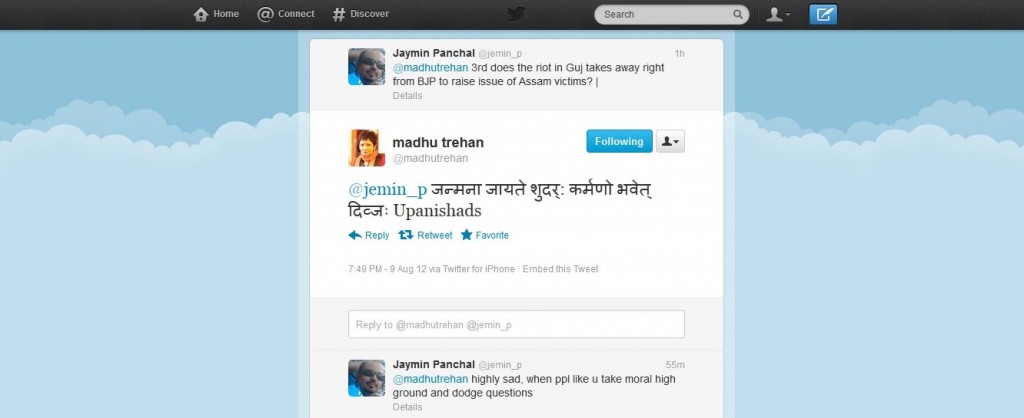 However, not to be left out or demoralized by hoity-toity act of Ms. Trehan, I went on to do my own research, to find if there is some underlying truth in the pathetically ridiculous comment supported by Ms. Trehan. What I found was astonishing, the state government of Gujarat under leadership of newly elected Chief minister at that time provided all the possible and necessary help to the victims, which were also acknowledged by current Central government, Congress, which considers Modi to be their biggest rival and leaves no opportunity to malign Modi, at times even by using lies and false propaganda.
Minister of State – Home Affairs, Sriprakash Jaiswal in 2005 on the floor of parliament while responding in relation to role of state government of Gujarat in relief management of victims of 2002 riots, said relief was also extended by the state government to the victims of the riots under the heads of cash doles and assistance for household kits, foodgrains to Below Poverty Line (BPL) families in affected areas, housing assistance, rebuilding earning assets, rehabilitation of small business, assistance to indusries/shop and hotel and so on. The state government, he said has informed that a total of Rs 204.62 crore has been incurred by it towards relief and rehabilitation measures
http://www.expressindia.com/news/fullstory.php?newsid=46538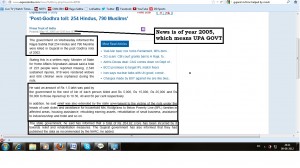 The then President of India Dr. APJ Kalam, also praised the work done at relief camp under leadership of Mr. Modi. There were "complimentary observations" made by the then President, A.P.J. Abdul Kalam, on the Modi government's "enthusiastic" cooperation to him when he travelled to Gujarat for a firsthand assessment of the post-riot situation in 2002, which were ignored by media. As quoted Dr. Kalam in his books – "Turning Points". he said, ""Many apprehensions were expressed, among them that my visit might be boycotted by the Chief Minister, that I would receive a cold reception and that there would be agitations from many sides. But, to my great surprise when I landed at Gandhinagar, not only the Chief Minister, but his whole Cabinet colleagues and a large number of legislative members and administrators including the public were present at the airport. I visited twelve areas — three relief camps and nine riot-hit locations where losses were high. Narendra Modi, the Chief Minister, was with me throughout the visit. In one way, this helped me, wherever I went, the type of petitions and complaints and as he was with me I was able to suggest to him that actions be taken as quickly as possible."
http://www.thehindu.com/news/national/article3617184.ece?css=print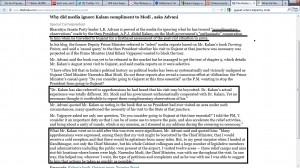 The then state government of Gujarat under leadership of Mr. Modi, not only did the exemplary work in relief management, but was also active and proactive in curbing the riots. Not only did the Gujarat Government do all this, the police also arrested 35,552 people as of 28 April 2002, out of which 27,901 were Hindus. Around 20,000 people were arrested as a preventive measure. No Islamic country (or our own country in Kashmir in 1990) or other mass murderers like Saddam Hussain, Hitler ever carried out preventive arrests to save the victims. And already nearly 200 people have been convicted for rioting- the highest ever in Gujarat.
http://www.ibtl.in/column/1252/what-did-the-modi-government-do-for-riot-victims
While, I am pretty confident that neither Ms. Trehan nor News Laundry had any proof except their delusion and presumption against BJP or Narendra Modi while writing and defending that obnoxious comment, after this write up, they might well burn midnight oil to dig out some concocted statements mentioned here and there as statements of victims to prove their point is right, that is if they chose to reply, by not acting in the natural way of being supercilious. But let me most humbly submit, that no one is claiming that all the victims would have been satisfied, there may be few genuine aberrations, or possibility of puppet created by cottage industry just like of prime witness in best Bakery case was created by Teesta Setalwad, (Chairman of Cottage Industry).
In all,  the fact remains the same, that no two riots can ever be compared, what can be compared among riot is – A.) The relief management between two riots, as none of the riots can be preemptively stopped, by any government, but what can be restrained, is fueling of riots and subsequently, providing relief to victims and B.)  The way riot was restrained from being fueled. In case of 1984 state sponsored pogrom and 2002 Gujarat riots and based upon the above criteria, Gujarat government showed exemplary management, unlike the then Central and Delhi state government of 1984, which not only is convincingly alleged to have sponsored the pogrom but also delayed the relief activities to victims exposing their insensitive nature of CONGRESS.
While 2002 riots provided cottage industry of riots in Gujarat, which was run by few so called humanitarians, who can be labeled nothing less than terrorists, they exploited pain of victims to further the cause of their political masters; While the 2012 Asom riots, have given rise to opportunist in the likes of Mr. A. Owaisi, dripped in communalism who are exploiting riots to further their divisive policy based on religion. Unfortunately such Member of Parliament, who threatens India as a whole of radicalization, is the political ally of Central Government, CONGRESS. And not to be surprised, the section of media is either silent or okay with such utterance of communal rabid canine, under the garb of being Member of Parliament. Media will do a huge service is exposing such mindset among ruling class and thereby make an attempt to save India from division on communal lines. I request to that particular section of media to shed their personal vendetta and expose such cannine, even he happens to be ally of political party, whom you like for reasons, unknown.
Now coming back to Asom violence and role of government, the Congress has still neither been able to acknowledge the real problem of Asom riots, i.e. illegal immigrants; nor able to stop their own political ally Member of Parliament Mr. A. Owaisi from communalizing the riots and threatening nation. Thus it baffles me the ignorance of Madhu in haste to compare the riots, even if she claims she was comparing relief management (comparison is acceptable) as the comparison is nothing but comparing chalk and cheese and that at cost of ignoring threats to national security.
At the End, I can only suggest to arrogant Ms. Trehan that while as a citizen ofFree and Democratic India, she has all the right to hate someone or even taunt, no one can encroach her right, not even me. But it is common courtesy and journalistic ethics to support her claim or statement with relevant proof and that too in time, not that after objection is raised, an assistant is made to do the research in futile attempt to save already auctioned credible image as unbiased journalist.
Thank You