Breaking News: Media & CONG Double Speak exposed yet again !!!
Today's Abhishek Manu Singhvi's latest jibe on Social media in attempt to save himself, has actually pushed me to write this blog.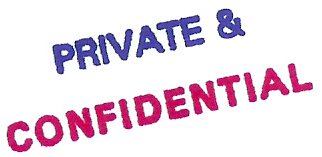 The CD  started doing rounds of Abhishek Manu Singvi enjoying his act with Certain Lady Lawyer, whose name was doing rounds to be Judge in 2010/11, however CJI. Kapadia had returned the recommendation on her name along with four other lawyers for reconsideration.
The argument doing round of privacy is so nauseating and irritating, all the more when yesterday we saw the "inventor" of dubious and farce sting operations in name of Journalism, would write over the moral ramifications of Sting expose.
Hypothetically, had CD shown AMS accepting cash for some professional favour, would Media have asked the legality of the video recording or would they have demanded for restrain, considering it is private chamber and AMS has its right to privacy? Now, supposedly instead of cash, when someone asks for sex in lieu of professional favour, suddenly Media proclaims "PRIVACY". How hypocritical!!!
The quid pro quo is yet to be established and hence one cant out rightly blame AMS for the same but, in past Media would draw orgasmic pleasure by exposing exchange of cash if caught on camera, has media ever shown restraint until the premise of exchange is established and proven? No, it's consider to corruption, so applying same assumption in this case, is only fair, with sources saying quid pro quo discussion is recorded needs to verified.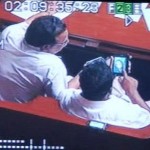 SPOT THE DIFFERENCE between the above picture and the one which was widely distributed having Singvi in action with his kurta UP-  The difference is NOT IN THE ACTION, BUT IN WAY OF CAPTURING THE ACT
Now going by the privacy infringement argument, even the BJP MLA (Karnataka) privacy was infringed by Camera Man by peeping in to MLA's mobile without any authorisation, how different it is than the recording of AMS act behind closed doors? Not one media had shown any restrained or respected privacy of BJP MLA. In fact, there were hour's long debates on the issue in almost all media channels and pages of articles in print media, where expert dished out their version of assembly morality.
The Media trial case on BJP MLA (Karnataka) was plainly on moral grounds, no legal case was involved. Heads of BJP MLA was demanded by Media, CONG and self proclaimed experts ONLY and ONLY on high moral grounds attached to assembly functioning, without once discussing that was camera men was within his rights to peep into some one's mobile without permission. At that time the process and manner used / applied to expose BJP MLA received sanctity and security, the technology was praised to able to catch such an immoral act. The case of Gujarat MLA, has beyond doubt been proven a farce acted by stooge of Mr. Shanker Singh Vagela (CONG leader).
BJP Keeping its high moral standards, and not indulging into technical / legal aspect of the method of expose, suspended the MLA who were ACUSSED of watching porn in assembly, even when camera man had infringed privacy of BJP MLA. But BJP understood importance of high moral Standards; it acted in the right manner, Also not once the BJP has questioned the right of Camera MAN to peep in to mobile without permission. I am no legal expert, but just as Singhvi racks up the legal issue of privacy, the camera man could have been tried for infringement, ONLY if BJP's intention were to cover u p or hush up the matter. Instead, BJP didn't touch that matter as far as camera man helped in notifying misconduct. And BJP was right in doing so.
In case of Abhishek Manu Singhvi, he is both legally and morally culpable, legally as there is allegation of quid pro quo (needs to be proven, officially). And as far as Moral ground is concerned, Singhvi is 100000% more culpable then BJP MLA who were been caught watching porn (in the same manner AMS was caught when he was without his pants). Now it's only wise, that the CD be sent to forensic laboratory, and get the authenticity of the CD and the possible quid pro quo arrangement. Till then on moral grounds, Singhvi has to be suspended from Rajya Sabha and all constitutional positions he is handling.
I would like to re-emphasise and sorry for it but – For beyond doubt it is proved the process and method applied in catching BJP MLA watching porn is more than similar of exposing colorful and possibly corrupt side of Singhvi .. So media and congress will do better by not bringing misleading argument of privacy infringement. And better ask CONG to act on moral grounds and then legally.
The case of sting operation and privacy trespassing is a serious issue, which we as society has to ponder over, but that should be taken  up some other time, may be after Singhvi saga, with fresh mind, for the sting operation, if used for revenge and scoring political points, will lead to unnecessary chaos, but that discussion, would be some other time, right now its only fait to solve the chaos and the case around Singhvi.
P.S – I in no manner have attempted or wished to defend the porn watching of BJP MLA. to me it has been wrong then, when caught and even now. The case only used to draw analogy and explain my case of larger culpability of Singhvi. Thanks
Fav Song  by Abhishek Manu Singhvi: It Wasnt Me – SHAGGY
CoNG and Media Discussing with Abhishek Manu Singhvi –Dheere Dheere Bol Koi Sunna Ke